Getting To Know The GLAManators:
My name is Wendy Curd, and I am one half of GLAManators. I was born in the 60's and raised in California. In fact, my parents are still living in the same house that I grew up in. I am the youngest of four children. Yes, I am the baby of the bunch! Oh, the stories of teasing I could tell…
In 1994, my beautiful daughter Kaeleigh was born. It truly was one of the best days of my life. I quit my job to stay at home with her. It was during that time that I really immersed myself into the domesticated life. My love of cooking blossomed and quickly became a passion (along with my fierce life long love of animals).
Due to my love of animals and fascination with horses, I started my own horse business in 1999. The business grew to be quite large. I did everything you can imagine with horses; lessons, trail riding, shows, boarding, racing, breeding and sales. All was wonderful until Sept 11, 2001. Needless to say, between the terrorist attack and the stock market collapse, my business took a major hit and I ended up closing it down in 2005.
In 2006 my life took another turn as I picked up my daughter, dogs, horses, cats and stuff and moved to the country. In 2007 I met the love of my life basically right down the street from me. It is a true love story. Steve and I were married on February 14, 2009. Together, we are a family with four fabulous children; Shane, Lauren, Hannah, Kaeleigh, and two grandchildren Saylor and Jasmine.
My husband and partner in crime is Steve Curd. He is a Silicon Valley CEO, and leads a high technology healthcare business. From 2011 – 2013 we split our time between living in Marina Del Rey, CA and our home here in Gilroy, CA. During those three years of living in Los Angeles, I had a crash course on living glamorously. Glam is everywhere you look every single day. The most important lesson that I learned was that being glamorous does not mean breaking your bank account. Being a 'Savvy Glam Girl' is something to be proud of!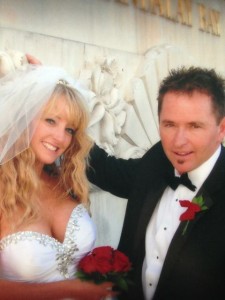 My name is Candace Solesbee and I am the other half of the GLAManator team! I was born in 1969, raised in Cottage Grove, Oregon with three older brothers. I was lucky to grow up in this small town. The people are warm and everyone knows each other.
I have always loved the arts, fashion, makeup, hair, and entertaining. I started cutting hair and doing makeup in the school bathroom when I was in the eighth grade, and the word spread. Before I knew it, my classmates mother's were dropping them off at my house to be regularly coiffed. In my later high school years,when prom rolled around; I rarely had time to get ready myself, because I was always busy doing everyone else's makeup and hair.
At the age of 17, I went to visit my first cosmetology school. When I walked in the door I was immediately in awe. Techno music was thumping through the speakers, instructors with accents all dressed in black, blowdryers humming like crazy, and wild colored hair everywhere.
At the age of 20, I moved to the San Francisco bay area, and opened my first salon at 21. We were named the "Best Salon in the Bay Area" San Jose Mercury News and became the official salon of the SanFrancisco 49er cheerleaders. Business really took off at that point.
I have two great kids that are eleven months a part. Chase and Savannah are such a bright spot in my life and really put things into perspective for me. My relationship with their father didn't work out, but I believe that everything really does happen for a reason.
The beauty industry is not only my profession, it is my passion. It's hard to believe that its been 26 years since I went to cosmetology school. Five salons later and I still feel so fortunate to have chosen this for my career. I get to to spend time with my friends/clients all day and they are always happy to see me! Lol I mean its not exactly like going to the dentist. People leave feeling so much better about themselves. I am blessed to have so many wonderful clients.
I married my soulmate, Danny Solesbee on August 8, 2013. I never knew how wonderful life could truly be. Danny is a Division Chief and Paramedic. His loving and caring nature is one of his most endearing qualities. Come on…who doesn't love a firefighter! We are building our beautiful life together in Oregon.
Wendy and Candace = The GLAManators
Our story is short and sweet. We met in 1990 shortly after Candace opened her first salon. Upon our first meeting we became fast friends. Over the course of 24 years, we have shared many of lifes ups and downs and have been each other's rock. Through it all, our friendship has never wavered.
We finish each others sentences, know what each other is thinking and easily feed off one another at any given moment. Basically, we are a comedy team.
We both have our own knowledge and strengths in different areas so we are highly complimentary to one another.
Our excitement of sharing all of our tricks and secrets with each other about beauty, cooking, fashion, travel, entertaining is what prompted GLAManators. We are looking forward to sharing our little secrets and creating a life long friendship with YOU!
---