Wish you had longer, fuller hair?
If you are thinking about a total makeover, hair extensions are a great way to achieve instant length, fullness and shine. Extensions will not only transform your hair style, but your entire look!
Hair extensions are not just for a radical transformation. Available in several lengths, extensions can be added to give body to fine hair, or to give some length to layers as you grow out your style.

We use Babe Hair Extensions, 100% human hair with a radiant, smooth texture without any synthetic coatings like silicone. Equally important is the attachment method. No heat, glue or chemical, no mess or damage to the hair.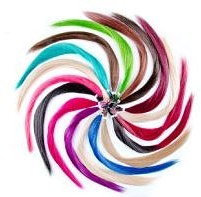 Babe extensions are available in a wide range of colors and textures, and there are several different types of attachment methods. Our extensions specialists will help you choose the right ones for you.
Hair Extensions look so completely natural that no one should be able to tell you are wearing them. They have become so popular that many celebrities are wearing them. You would be surprised to know who!
How much do hair extensions cost?
This is a common question, and the answer depends on many factors including the brand of hair extensions, the amount and length desired and the current condition of your hair. A consultation is highly recommended, so that we can talk through ideas and options. Extensions can range from a few hundred dollars or a few thousand dollars. But a consultation is free.
If you are ready to glam up your look check out our other amazing services like makeup application, and cut and styling services.
Contact Shampoo Dolls, a hair extension salon in Cottage Grove Oregon to schedule your free consultation.
---