Welcome to the Shampoo Dolls Beauty Blog.
Find fresh posts every month about the latest hairstyles, hair color trends, celebrity looks and the best styling and care products to hit the market.
Not everybody likes to dress up as a witch, vampire or bat for Halloween. How are you going to wear your hair?
Pumpkin Spice and Gingersnap Hair Color
Pumpkin Spice Hair Color: Deep Coppers, Reds and Browns Fall has arrived! If you're searching for the best shade of red hair for the new season, then think spice! As in pumpkin and ginger! Pumpkin spice hair color is back along with Gingersnap...
Are you looking for a new look to take you into the cooler days of fall? Take a look at some of our hairstyles ideas for fall and winter hairstyle trends.
Fall Blondes: Balayage, Sombre and Babylights
Transition your blonde hair for fall with balayage, sombre or baby lights. The look is in demand in Cottage Grove, so what are you waiting for ladies!
Over this past weekend, us dolls got together and put our cooking skills to the test! All of us at Dolls, and our honorary doll Danny, enjoyed seeing Cottage Grove come out in force for the Annual Chili cook-off.
In simple terms the "Shadow Box Hair Color " is a strikingly different hair color around the nape of the neck. The outer most layers of the hair is typically light while the hair underneath is darker.
How to get the Perfect Eyebrows
When it comes to shaping their own eyebrows, most women struggle. It's hard to get the right arch and make both eyebrows even in order to flatter the eyes.
Balayage is more than just painting on lightener onto random sections of hair! Leave it to the hair color experts. Put our expertise to work, explaining the best technique to use for your hairstyle and natural color. We know where to place your balayage highlights, and how much to do, in order to enhance your features and complement your skin tone.
Carnival & Festival Hairstyles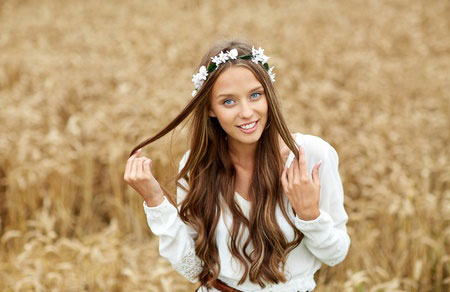 In Cottage Grove we are a bit fanatical about our outdoor concerts, Art Walks and carnivals at Bohemia Park! Focus on having a great time, not how to wear your hair! Here's a peek at some looks to take you from party to party.
Haircuts & Hairstyles for Your Face Shape
How do you find the best hairstyles to flatter your unique beauty? The trick is to pick a haircut or hairstyle that works with the shape of your face...
---