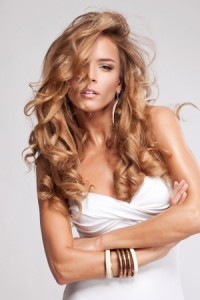 Hair Extensions are not exactly low maintenance, but we still love them! We love hair extensions because they add glamour, length, and fullness to our natural hair. If you have been wearing hair extensions for years, you can consider yourself a seasoned pro, however there is always more to learn when it comes to caring for your extensions.
If you are new to the hair extension game, these tips will certainly help you keep your locks looking their best all season long. The there are so many different variables that can take a toll on hair extensions and that can make caring for your tresses a bit of a struggle.
No worries though, we have some tips that we consider life savers! The harsh weather conditions can truly take a toll on human hair by sucking moisture right out and leaving your locks brittle. If you do not pay extra attention to your hair care routine concerning prevention, you could suffer serious damage.
Hair Extensions: Super-Moisture Conditioner
Helping your hair extensions out in any way you can should be done. That is why keeping your locks silky and smooth should be the goal at all costs. Keep your hair gorgeous by using a moisturizing conditioner daily. Sometimes you can even take advantage of deep conditioning hair masks. Although your extensions are not your real hair, caring for them like they were your own is important. Just remember to be gentle when washing them to avoid damaging them.
Hair Extensions: Go Light on Styling Tools
Styling tools are a quick way to deplete your hair extensions of all their moisture. Make sure you go light on the heated styling tools if you can. Allow your tresses to air dry and opt for updos and natural waves more than styling them with your flat iron. If you simply must use your heated styling tools set them on a lower heat setting than usual.
Hair Extensions: Embrace Hats
Protecting your hair is always a good idea. Hats are a great way to do just that. A hat can serve as a barrier for your hair shielding your hair extensions from harsh winds and drying factors. Beanies can be so much fun so go for it!
Remember that hair extensions are an investment. That means it is your jobs to educate yourself and get in the know about the best practices to keep your extensions looking lovely and new for as long as possible. Harsh elements can be tough to deal with for those who have extensions, however you can brave the storms by keeping your locks moisturized, protected and covered up as needed. Be kind to your hair and it will thank you!
We use Babe Hair Extensions, 100% human hair with a radiant, smooth texture without any synthetic coatings like silicone. Equally important is the attachment method! There is no heat, glue or chemical, no mess or damage to the hair. Babe extensions are available in a wide range of colors and textures, and there are several different types of attachment methods. Our hair extensions specialists will help you choose the right ones for you.
If you are in need some some touch ups or new hair extensions, we have got you covered. We are the premier hair extension salon in Cottage Grove, OR . Here at Shampoo Dolls we offer Babe Hair Extensions. Now is the perfect time to book your appointment! Give us a call today at (541) 942-9395.
---