How do you find the best hairstyles to flatter your unique beauty?
The trick is to pick a haircut or hairstyle that works with the shape of your face. The trouble is, most of us are unsure what our face shape is! But don't worry, there is no geometry involved.
If that all sounds a bit complicated, why not just book a hair appointment at The Shampoo Dolls in Cottage Grove, OR and let our experts create the perfect hairstyle for you? Call us at (541) 942-9395.
How to determine your face shape
The first step is to pull back your hair, stand in front of a mirror, take a lipstick and draw an outline of your face on your mirror! Stand back and you'll see whether it's long, oval, round, square or heart-shaped. Squirt a bit of glass cleaner onto your mirror, make yourself a cuppa joe, and read on to find out which hairstyle is the best fit for your face!
The Best Hairstyles for Long Face Shapes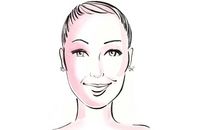 A prominent chin and tall forehead are usually two traits of a long face shape, which is is longer than it is wider, and requires a little balance to make the face seem more in proportion. The best haircuts and hairstyles for long face shapes are shoulder length and shorter. Or if you prefer long hairstyles, consider having blunt bangs, wispy bangs or face framing layers to create horizontal movement. This appears to widen the face.
Hairstyles to avoid if you have a long shaped face? Stay away from center parts which will magnify the vertical length of the face. Go with an off-center or zig-zag part and voila, problem solved.
Hairstyles to Flatter Round Face Shapes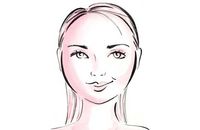 When talking about the perfect haircut and hairstyle for round face shapes, it's all about visually slimming your face. Common features of a round face shape include round foreheads and chins with lovely wide, full cheeks.
The best haircut and hairstyles for round, full face shapes are those that add height. High up-styles are a great way to trick the eye into adding height to a hairstyle. Or add soft layers which add width around the cheekbones. A graduated bob that begins at the nape of your neck and rests to a point under the chin, with a side swept long fringe, is also a great style for round face shapes.
Hair Cuts and Styles for Oval Shaped Faces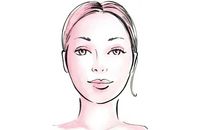 The oval face is often regarded as the perfect face! In fact, all of these haircut strategies aim to create the illusion of an oval face. The best haircuts and hairstyles for an oval shaped face are almost endless and you really are able to experiment with a variety of haircuts. Just avoid thick bangs and layers that sweep forward because they'll hide your perfect face.
Hairstyles and Hair Cuts for Heart Shaped Faces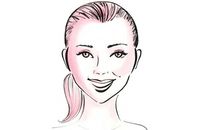 A heart shaped face is often has a 'widow's peak' that creates a prominent heart shape. This face shape is also called a triangular shaped face or inverted triangle because the forehead is wider than the chin and jaw line. Heart shaped faces are still adorable, it's just a matter of wearing the right hairstyle!
The best haircut and hairstyle for those with a heart shaped face is a short bob, which looks fantastic with curly or wavy hair just under the cheekbones to create width at the narrow jaw line. Bangs are a great way to balance out a heart or triangular face shape, especially if you have a widow's peak and you're not one who wants to showcase it. With heart faces, avoid hairstyles with added height or any hairstyle that is too slicked back as you should try concentrating volume around your jaw line to balance out your features.
Haircuts and Hairstyles for Square Face Shapes
Square face shapes tend to be strong and angular, so the best hairstyles for them add softness. Long bangs to the eyebrows or bangs with longer length at the sides really help to balance out a square face shape. Hairstyles with waves and curls, particularly around the jaw line help to detract from this angular shape.
If you have any doubts about a future haircut, talk to your stylist. Discuss what you like about the style and your stylist will be able to adapt it to your face shape, giving you a one of a kind look.
---