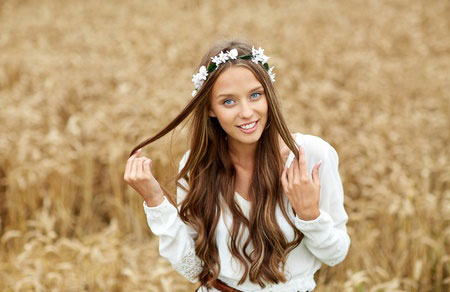 Everyone has festivals and fairs, but in Cottage Grove we are a bit fanatical about our outdoor concerts, Art Walks and carnivals at Bohemia Park! With so much to look forward to on those summer nights and weekends, you want to focus on having a great time, and not be worried about how to wear your hair! Here's a peek at some looks to take you from party to party.
Summer concert hairstyles
Festival Hairstyles should be easy breezy, inspired by the music, the amazing weather and the company of great people. Come in to Shampoo Dolls Salon, and we'll give you a versatile haircut and style that's always ready to party. You'll be ready to dance all night. Call us for an appointment at (541) 942-9395!
Accessorize!
Dress up your tresses by adding a flower crown or a delicate head chain to your hairstyle. Any hairstyle, short or long, will look festive pretty flowers, slides or bows. Ribbons make the most genius hair accessory. Secure a wispy, low ponytail with a feminine ribbon and tie it into a bow. Or, try a colorful scarf, it's the perfect cover up to protect your hair in the sunshine.
Keep it Casual
Hair up or hair down, don't try to make it perfect. A messy bun keeps you cool in the summer heat, or try some funky twists. Don't be too formal girls, just whip it up or simply let your curls go, and you'll create that I was born with it look!
Summer Hairstyles with Braids are great for Festivals
Braids are always one of the hottest looks for festivals. If you get rained on and your braid gets wet, it doesn't matter… just let your hair dry out in the sun, undo the braids and shake out beachy waves!
Rock and Roll Hair Color & Hairstyles
Make a statement with red or blue hair color, even pastel hair colors are also spot on trend for the concert season. Our experienced hair colorists at The Shampoo Dolls Salon in Cottage Grove can create the latest ombre and balayage looks, or the whitest platinum or 'rock n roll' reds.
---