by Wendy Curd Originally Post Date March 6, 2014
The "Girl Next Door" look of barely-there make-up is timeless. Natural make-up and nude colored clothing are trending at this moment. The idea is to create an effortless look using a tone on tone color pallet in both your wardrobe and your cosmetics. With that being said, take heed… Just because this style looks effortless, it doesn't mean that it actually is.
"Natural Beauty takes at least two hours in front of a mirror." ~ Pamela Anderson
Creating A Nude Eye:
Using a foundation brush, apply a thin layer of eyelid primer.
Use your favorite concealer and gently dab it under your eye to cover dark circles.
Fill in your eyebrows using a powder eye shadow that matches your natural hair color.
Using a light peach shadow, apply the color all over your eyelid.
Apply a darker brown color in the crease of the eyelid and blend-blend-blend. The browns create depth while the bronzes add highlights and contour.
Add a touch of pearl-colored highlighter to the inside corner of the eye to add a little bit of brightness.
Using a brown liquid liner, dot the liner into the upper lash line to make lashes look full.
Line the lower lashes with a brown powder.
Finishing Touches:
Use a bronzer instead of blush to give your skin a natural glow
Highlight the apple of your cheek with a light peachy blush stick. This gives a fresh, glow to your cheek bones.
A sheer peach lipstick or gloss is a perfect compliment to a natural makeup look. Plus, it's flattering on every skin tone and gives the lip definition without looking overly made up.
GOLDIE HAWN & KATE HUDSON
This Mother -Daughter duo exemplify the natural "Girl Next Door" look. These ladies are known for their soft golden highlights, infectious smiles and glowing skin. All of which makes them look years younger than their actual age.
In our opinion, it's important to choose nude clothing that is relatively close to your own skin tone; RELATIVELY being the operative word. If the clothing melds into your skin, it tends to make you look too washed out. You need just a little bit of contrast.
LOVE this casual look!!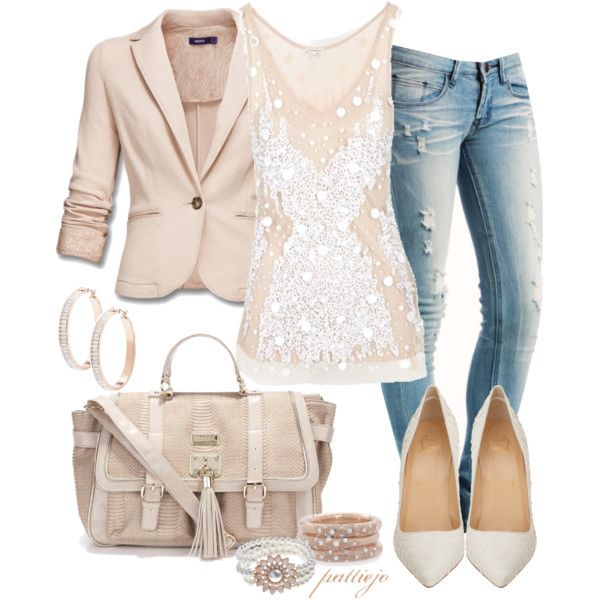 P.A.R.O.S.H Sequinned top – Sleeveless beige top from P.A.R.O.S.H featuring a scoop neck, a sheer underlayer and contrasting sequinned embellishment to the front and back.
Sweat jacket – Short, tailored sweat jacket, with floral lining details. Finished with slit pockets and back slit for ease of fit. Team up with jeans for a relaxed, smart-casual look.
Distressed skinny jeans – We love the worn look of an old pair of jeans, and this distressed pair captures that 'loved' look perfectly. The whiskering is absolutely adorable, and the holes seem to almost tell a story. But our favorite part about these jeans? You can wear them with just about anything.
Christian Louboutin Python Batignolles – Signature red leather sole. Available in White. Made in Italy.
Lipsy Snake Pocket Satchel Bag – For a chic everyday handbag, this snake effect satchel is perfect. Features double front pocket and tassel detail.
Galaxy Melted Pave Ring Rose Gold / White | Melinda Maria Jewelry – Rose gold-plated band with Melinda Maria's signature melted texture and a scattering of sparkling white diamond CZ stones.
Cream and Pink Flower Pearl Bracelet – Give your look some flower power with this cute pearl bracelet! Great for working classic girly glam from this season to the next! Triple pearl bracelet design. Pink stone flower centre piece.
Henri Bendel Harry Hoop Medium Earrings – Brighten up your everyday hoops with a touch of bling! This style is perfect for any occasion.
---